Price
USD 45/car ( 1 till 6 person included)
Book Now
UBUD - ULUWATU TOURS
Ubud - Uluwatu Tours is an Bali One Day Tour Package to Visit interest places at Ubud Village and continue to Uluwatu for enjoy the beautiful view . This Ubud Uluwatu Tour will visit places of interest in Bali like Celuk Village is traditional village for gold and silver handicraft, then the tour continue to visit Batik & Hand Weaving - Tohpati Village, then tour will visit Batuan Village is a traditional balinese village with beautiful fine art, Batuan Temple and then visit the main site is Uluwatu Temple is amazing temple sits on 70 meter protuding cliff with some group monkey nearby, then the tour will continue to watching Kecak and Fire Dance Performance near the uluwatu temple, is a Balinese dance takes story from fragment Ramayana, and then the last site during Uluwatu tours is visit Jimbaran beach to enjoy the delicious seafood dinner on the beach at local restaurant. The Uluwatu Tours will bring you to the wonderful memory with three different experiences as the feature of this Full day tour package. Our professional Bali Tours Driver is always outstanding offer our best services to keep your convenience trip along with private full air-conditioning car transfer to complete your enjoyable on Ubud - Uluwatu Tours.
Places of Interest will be visit during Ubud - Uluwatu Tour
Celuk Village For Traditional Gold and Silver Art
Celuk Village is formerly as a traditional Balinese village located in the entrance gate of Gianyar Regency ad has changed into a tourist attraction with its trademark in the form of gold and silver. The village located in Sukawati District, Gianyar Regency has the uniqueness and excellent in production of gold and silver handicrafts. Almost all the families and villagers are Balinese who professional, skilled and art soul to develop the creative design and variety of products related to the gold and silvers. This craft village with long historical has been producing gold and silvers that penetrating the local, national and international markets. Various type of jewelry, either as souvenirs or export commodities are produced in this village includes variation type of rings, necklaces, earrings, hairpins, brooch and others. In addition to this, the artisans at Celuk Village are responding to the market demands and also produce the modern products such as medal, models and culture symbols.

History

In the history of gold and silver craft developments, the first step was initiated by the discovery of a family group who belong to Clan Pande. From these families, the gold and silver craft activities spread throughout the entire local communities in this village as a kind of major life gradually shifting their formerly life as the farmer. Around year 1970, it has been changed the community structure significantly at this village. The change was from the agrarian society to the industrial society. And even now, some of them have jumped into the structure of service economic by focusing to the tourism industry. The change was given the positive impact for the prosperity and welfare of the communities. Celuk Village, Kuta andUbud have been classified as the prosperous village category in Bali with high per capita income.

Location

Celuk Village is strategically located within 10 kilometers from Denpasar City where this village situated in the tourist destination are with the high potential and variety of tourist who visit this place. The following neighbor village includes Batubulan Village famous with Barong Dance and stone carving, Singapadu Village famous with Bali Bird Park and Bali Zoo, Batuan Village famous with the traditional painting, Guang Village famous with the wood carving and Sukawati Village as a center of art and souvenir trading. We can discover the several of gold and silvers gallery along the main road in this village those are opened for tourists.



Batik & Hand Weaving - Tohpati Village
Tohpati Village lies in the eastern part of Denpasar with famous of batik hand weaving center, is just about 12 kilometers from Kuta. Batik is a traditional form of painting fabric. They painstakingly use dots and lines from wax to decorate the cloth.

It is very impressive to watch. It would be impossible to visit or live in Indonesia and not be exposed to one of the country's most highly developed art forms, batik. On your first visit to a batik home industry, you will undoubtedly experience an overwhelming stimulation of the senses – due to the many colors, patterns and the actual smell of batik. Only through repeated visits and a bit of study will the types of designs and their origins become apparent.

Batuan Art Painting Village
Bali Batuan Village a famous Balinese Artwork / Balinese paintings and as such a famous Bali tourism destinations, located about 7 kilometers north of Denpasar about and 10 kilometers south of Ubud, it is popular with center of Bali arts, and now it's known for its dancing, wood panel carving and Bali paintings ubud. We have lots of tours to Batuan and Ubud painters - where you'll see the beautiful paintings and they have Bali paintings for sale too.
Balinese traditional painting
was restricted to ceremony aspect such as religious part, calendar and leather puppet (balinese: wayang). This periode was before 1920 and called as Kamasan orWayang Style. Wayang itself is two dimentional drawing that characterized an hindu-buddhism epic such as Mahabarata and Ramayana. The paintings were used on temple or palace as ornament. They ilustrated many stories about religion and bali life. Ussually it is a pieces of paintings that tell a stories. The name of kamasan style itself was take from the village name where it originated. The material used in kamasan style is also traditional material from mineral and vegetables or plant resources. Also they use white bone, soot, or stone. Bamboo used as tool to painting and the media ( canvas ) ussually traditional canvas from wood, tree leaf, or cloth. In 1920, there are western artist visited bali. This has change the rule on balinese art painting. An introduce of new canvas from western material, inks and paint, has change the style into modern art painting. The year has start a new way of balinese modern art painting. More artists come to bali has influence traditional style that was restricted to ceremony aspect.
Batuan village wasn't influenced by the western as they were in Ubud. The Batuan paintings were often dark, crowded representations of either legendary scenes or themes from daily life, freakish animal monsters, and witches accosted people. The Batuan Village paintings were gradations of black to white ink washes laid over most of the surface, so as to create an atmosphere of darkness and gloom. In the later years, the designs covered the entire space, which often contributed to the crowded nature of these Balinese paintings.
The Batuan Village artisans
Are known for their Balinese Artwork. Leading artists of the 1930s members of leading Brahman families, including Ida Bagus Made Togog, I Dewa Nyoman Mura (1877-1950) and I Dewa Putu Kebes (1874-1962), which were traditional Wayang-style Balinese painters for temples' ceremonial textiles.
Story Of Batuan Village Painting Art


For over a thousand years

Batuan has been a village of Balinese Artwork and Bali handicrafts. Batuan village

has a thousand year old history in accordance with the recorded history - begins in A.D. 1022, with an inscription that is housed in the main village temple, Pura Desa Batuan/Batuan Village Temple. In the Age of Warmadewa Dynasty in Bali, Desa Batuan / Batuan Village had to be there. Batuan village eventually came to be called Batuan, from the word of Batu / Rock, because - in that time - in this region is a rocky area (the famous Balinese sand stones are still produced here in northern of Batuan), then because of daily changes in the pronunciation then more popularly known as Batuan Village.


Batuan Temple
Bali Batuan Temple is a local Balinese Hindu temple looked after by the local resident of Batuan countryside. The temple is designed very beautiful with full of Balinese ornaments and the roof temple building is made from the fiber of chromatic black palm tree.
It is strategically located beside of the main road from Denpasar to Ubud. For over a thousand years, Batuan has been a village of artists and craftsmen, old legends and mysterious tales.
Batuan Temple were founded in the year 944 isaka (1020 AD). Nearly 1000 years old.The Batuan Temple is a Puseh Temple category based on the concept of "Tri Kahyangan or Tri Murti" taught by Mpu Kuturan around the 10th century to the Balinese Hindu community at the time.
Tri Kahyangan or Tri Murti including 3 temples :

Desa or Village Temple as a place to worship of God Brahma (the Creator)

Puseh Temple to worship of God Vishnu (the Preserver)

Dalem Temple to worship of Lord Shiva (the Destroyer)
History of Batuan Temple
The name "Batuan" or "Baturan" mentioned here prompts villagers to joke about being "tough as stone" or "eating rocks" as batu means "stone" in Balinese. But it likely refers to an ancient megalithic tradition in which standing stones served as meeting places and ceremonial sites for the worship of ancestral spirits. Because Batuan became a center from which Buddhist priests and brahmans spread to the main court centers of south Bali, the village has an unusual preponderance of brahman.
Local people are very concern about the care and preservation of the temple architecture and its environment. Not all existing buildings were old buildings here, there are some that have undergone renovation, renewal, and change from 10th century to 13th century and also 18th century AD. The structure and foundation of this temple are very tough and strong. It has the original Balinese ornament

that beautifully craved on every building at this temple area. Some ornaments are reflection of The Ramayana Epic story and every holy building has different function philosophically.


Batuan Temple Area Consist Of :
At temple parking area, there is standing an ancient building called Wantilan, this place use as a meeting hall and to practice any kind of Balinese dances as Gambuh Dance, Pendet Dance, etc. Before you enter the temple there is some local people at Wantilan will lend you 'kamben' (a traditional Balinese costume). It is a must for you to wear 'Balinese kamben' to show your respect and honor about the holiness of "Puseh Temple of Batuan Village". It's all free, you won't be charged for entrance. However, the local people expect every tourist who visited to this temple can donate in any amount of money to support the maintenance of the temple. There is provided a simple donation box. Every donation that you give should be based on a sense of sincerity, where Balinese people know it is called "medana punia".
In the middle yard of temple there is a long building / bale called the Bale Agung and Bale Kulkul (a gong mad by wood or bamboo).In this yard there is also a high entrance Balinese Gate called the Kori Agung, which is flanked by the many guardian statues shaped the giant sculpture. The function of Kori Agung is the door where the exit and entry for the gods symbolized by a small statue called Pratima. Next to the Kori Agung there are two small doors as a place of exit and entry of people into the temple's main yard.
In the main yard of the temple there are some three story Meru and Bale Pengiyasan as a symbol of the temple of Besakih, there is also a building called Padmasana as a place of worship to Sang Hyang Widhi, the only one Bali Hindu's God.
Batuan Temple is not only emitting a high spiritual vibration, but also representing the historical values. You can look inside there are many stunning ancient relics from prehistoric times. How the influence of Hindu culture in Bali made of natural stones in this temple become a place of worship, both to their ancestors and worshiped Hindu Deities. You will amaze in finding some ancient and unique statues there. Based on a number of statues found in this Puseh Temple, it can be grouped into several types. They are Dwarapala Statue, Embodiment Statue, Animal Statues, The Status Figure of Holding the Chicken, Phallus, Demons (Time), and many more.


Uluwatu Temple
Bali Uluwatu Temple is located in Pecatu Village, Kuta Sub-district, Badung District, Bali. The temple is 30 kilometers to the south of Denpasar. Uluwatu Temple, also called Luwur Temple, is one of the six Sad Kahyangan Temples, the main spiritual pillars in Bali Island.
History of Uluwatu Temple
There are two different opinions concerning the history of Uluwatu Temple.

First Opinions, Some people believe that the temple was built by Empu Kuturan in 9th AD, during Marakata's reign.

Second Opinions, Other people claim that the temple was built by Dang Hyang Nirartha, a pedanda (Hindu monk) from Daha Kingdom (Kediri) in East Java. Dang Hyang Nirartha came to Bali in 1546 AD, during the reign of Dalem Waturenggong. The monk built Uluwatu Temple on Pecatu Hill. After completing a spiritual journey around Bali, the monk went back to Uluwatu Temple and died there. He moksa (died and his body vanished), leaving the Marcapada (worldly life) and entering Swargaloka (heaven).
The Piodalan or ceremony commemorating the temple's anniversary is held on Anggara Kasih day, in wuku Medangsia in Caka calendar. Usually the ceremony lasts for three days thronged by of thousands of Hindus.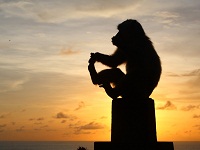 Uluwatu Temple sits on a 70-meter-high cliff protruding above Indonesian Ocean. Because of its unique location, visitors to the temple have to take a long stone stairway to reach it. The temple heads east, unlike other Balinese temples which face west or south. There are hundreds of monkeys roaming along the path outside the temple. Although the monkeys look tame, visitors find them a nuisance as they often grab food off a visitor's hand and snatch visitors' belongings. There are two doors at the end of the path, the north door and the south one, through which visitors enter the temple complex.
The entrance doors take the shape of stone Bentar gates. Standing across from each gate, there are two statues of elephant-headed men. The front part of the gate is decorated with fine relief sculpture picturing leaves and flowery patterns. Behind the gate, there are stone steps that lead to the inner court. Along the steps, trees are grown to provide shade.
A small forest lies at the front and hundreds of monkeys dwell here. They are believed to guard the temple from bad influences. The serpentine pathway to the temple is fortified by concrete walls on the cliff side. It takes about an hour to get from one end to another as there are several fenced points along the way to stop. The views from the bottom of the water surging up against rocks and the ocean horizon are remarkable.
The Balinese Hindus believe that the three divine powers of Brahma, Vishnu, and Siva become one here. That belief results in making Uluwatu Temple a place of worship of Siva Rudra, the Balinese Hindu deity of all elements and aspects of life in the universe. Uluwatu Temple is also dedicated to protect Bali from evil sea spirits.
The inner court is an open space paved with stone floor. There is a wooden building near the north gate. To the west, across from the entrance path, there is a Paduraksa Gate that opens the path into the next inner court. Unlike the ones found outside, this stone gate is completed with roof. The door is an arch framed with an arrangement of stones.There is a sculpture of a giant head above the frame. The top of the gate looks like a crown and it is decorated with relief sculpture. The gaps between the gate and the walls are filled with a surface full of relief sculpture. There is a small rectangular court to the south that stretches out above the sea. There is a wooden construction at the end of the court that seems to be a place where people can sit and watch the ocean. Uluwatu Temple has undergone several restorations. In 1999, a lightning struck the temple and caused fire.
Every six months according to the Balinese 210-day Pawukon cycle, big temple anniversary celebrations are held at the temple. The temple's keeper, the royal family of Jro Kuta from Denpasar, are patrons for the event. Believers regard it as a manifestation of the divine power that protects Uluwatu Temple. Public facilities are available, but not in the temple area. Unlike some other tourist destinations in Bali, Pura Uluwatu area has limited amounts of hassling vendors.
Visitors must wear a sarong and a sash, as well as appropriate clothes common for temple visits. They can be hired here. The best time to visit is just before sunset. Kecak and Fire Dance Perfomance is performed everyday at the adjacent cliff-top stage at 18:00 to 19:00. Visitors are charged a nominal fee, the ticket around USD 10/person. What makes it the most favourite venue to watch a Kecak dance is the sunset background of the performance.
There's no public transportation to get here and going back in to town will be difficult without any prearranged ride or taxi. A guide is not necessary, though helpful. The service offered is hassle-free at very minimum prices.


Kecak and Fire Dance Performance
Bali Kecak Fire Dance Perfomance Not known exactly where Kecak dance originated and which was first developed, but there are some kind of agreement on the Balinese Kecak was first developed into a performing arts in the village of Bona, Gianyar, as additional knowledge Kecak was originally a song or music that is resultant from a combination sounds that make up melodies that are usually used to accompany the sacred dance Sanghyang. And can only be staged in the temple. Then in the early 1930s by artists from the village of Bona, Gianyar trying to develop a Kecak dance by taking the story of Ramayana who danced as a substitute for Sanghyang Dance so this dance could eventually be displayed in public as a performance art. Part of the Ramayana story in which the first is taken as Goddess Sita was abducted by King Ravana.
The development of Bali Kecak and Fire Dance in Bali
Kecak Dance in Bali continues to change and progress since the 1970's. Developments can be seen is in terms of story and staging. In terms of the story for staging not only sticking to one part of the Ramayana, but also other parts of the story of the Ramayana. Then in terms of staging also began to experience growth not only found in one place likes the Village Bona, Gianyar, but also other villages in Bali began to develop Kecak dance so all regions in Bali there are dozens of Kecak groups whose members are usually members of the Banjar. Activities such as Kecak dance festival is often held in Bali well by government or by a school of art in Bali. As well as from the amount of much dancers who ever performed in the Kecak dance was recorded in 1979 which involved 500 dancers. At that time kecak performed by taking the story from the Mahabharata. But this record was broken by Tabanan regency government that organizes colossal Kecak dance with 5000 dancers on September 29, 2006, at Tanah Lot, Tabanan, Bali.
Pattern of Bali Kecak and Fire Dance
As a Kecak dance performance is supported by some very important factor, and in the Kecak dance performance presents the dance as an introduction to the story, of course, vital music to accompany the dancers movements. But in the Kecak Dance, the music generated from a combination sounds of members "cak" which were about 50-70 people all of them will make music in akapela. A person will act as a leader who gives the tone early, someone else acting as a suppressor in charge of pressure high or low tone, someone else acting as a solo singer, and someone else will act as the mastermind behind that to deliver the story. the dancers in the Kecak dance motion should not follow the movement of dance accompanied with gamelan. So in the Kecak dancethis gestures of the dancer is more relaxed because the main priority is the storyline and the sound mix.
Bali Kecak and Fire Dance Performance StoryWhat makes the Kecak special is that the accompanying music is provided by the human voice, the gamelan suara, a choir of a hundred men or more sitting in concentric circles, swaying, standing up, lying prone as the story develops.Amongst the swaying masses the voices of the storytellers can be heard telling the unfolding tale.
The story is a fragment from the Ramayana, the Hindu epic which finds its expression in many forms, not only in dance, but also in painting and carving. Prince Rama, heir to the throne of the kingdom of Ayodya, and his wife Sita have been banished from the kingdom by King Dasarata as a result of trickery by Rama's stepmother. The story begins with the arrival of Rama and Sita accompanied by Rama's brother Laksmana in the forest of Dandaka.
The trio have been observed by the demon Rahwana, King of Alengka, who lusts after the beautiful Sita. Rahwana sends his prime minister Marica to try and isolate Sita so that Rahwana can kidnap her. Marica's magical powers turn him into a golden deer and he enters the forest and when the Sita sees the golden deer she is so enchanted by it that she asks Rama to capture it for her. Rama chases after the deer leaving his brother Laksamana behind with strict instuction to protec Sita. When Sita thinks she hears a cry for help from Rama she forces Laksamana to go after Rama by accusing him of cowardice and he goes off to help Rama with great reluctance after drawing a magic circle on the ground and telling Sita the she should not under any circumstance step out side the circle.
Sita, left alone in the forest becomes an easy prey to the trickery of Rahwana who has disguised himself has an old periest and bags Sita for some food as he is cold and hungry. Sita falls for for his trick, she steps outside the circle to give the old priest some food and rahwana grabs her and takes her to his palace.Once back in his palace in Alengka, Rahwana tries everything he can to seduce Sita without any luck.
In the palace of Alengka, Sita pours out her heart about her cruel fate to Rahwana's niece Trijata, when Hanoman appears telling her that hi is Rama's envoy and proving it by showing her Rama's ring. Sita gives Hanoman a hairpin to show she is still alive and sand him back to Rama with a massage to come to her rescue.
In the meantime Rama and Laksamana accompanied by Tualen are wandering in the forest looking for Sita when Meganada, Rahwana's son, appeares and engages Rama and Laksamana in Battle. Meganada uses his magic powers and shoots of an arrow which magically turns in to a dragon which overpowers Rama and Laksamana and they are trussed up in ropes.
The bird Garuda, King of all the bird, a good friend of King Dasarata, has observed trouble Rama is in from high up in the sky and comes to the rescue freeing the brothers from the ropes. Rama and Laksamana continue on their way to rescue Sita and are joined by Sugriwa, king of the monkeyes, and his monkeys army.
This fragmen of the Ramayana come to an end with the bittle between Sugriwa and his Monkeys Army and Meganada and his Demon Army which ends with the defeat of Meganada.


Seafood Dinner at Jimbaran Bay


Bali JImbaran Beach is located between airport and bukit pecatu with original villages of kedonganan and Jimbaran itself. These2 traditional villages lay on a stretch of around 2 kilometers barrow lowland between Bali mainland and the foot of south Bali. Jimbaran and Kedonganan are under the administration of perbekelan Jimbaran or Desa Jimbaran, while desa jimbaran is under wide administrative area of Kecamatan Kuta. Jimbaran and kedonganan villages have been known as the biggest supplier of salted fish for whole Bali, and until now. Kedongan is still the first collection agent of fish dropping or fisherman boats from Muncar, East Java. This collection agent is collection K.U.D. Jimbaran or Jimbaran desa level co-operation. This co-operation consist of fisherman members of both village of jimbaran and kedonganan. If we come to to the beach of kedonganan in the morning around 09.00 am we can see dozen of fisherman boat anchor going on the beach with various fishes is being disembarking and dropped to the beach. Big number of fresh fish wholesalers come from various area of Bali have already queuing at the office of the co-operation to buy fish from K.U.D.
Jimbaran Bay Beach has both lovely beach and the most exotic seafood in Indonesia. Seafood cafes aligning on jimbaran beach next to intercontinental hotel are indeed exceptional. Situated within a peaceful fisherman village, these cafes started out as huts which eventually grew in to an established industry. Jimbaran Bay Beach was always just a small fishing village, but in the 1980's developers moved in to exploit its glorious beaches. However it is still very much a fishing village and it is always pleasing to see when villagers have directly benefited from tourism. Jimbaran Bay Village, is the home to some of the best known international hotel names which straddle the bay and luxury villas are perched on the hillside with enviable views over the bay. The Jimbaran Bay Beach around the hotels are, as you would expect, stunning and it is a safe area for swimming. Around the village and fish market it is very much a working area for the fisherman tending their boats and nets and sorting their catch for market.
The Jimbaran Bay Beach takes on a whole new dimension as sunset approaches. They recently spread out to areas on the way to Ngurah Rai Airport. The flavor of their dishes is exquisite. Fresh seafood grilled on coconut charcoal served with flavorsome spices will undoubtedly stimulate you!! You can ick your favorite seafood prawns, lobsters, squids or fishes. Waiting on your food, you can sit around on soft white sands and watch the sunset in the evening. There are many restaurants come alive when they set up their candlelit tables down to the waters edge. The chefs fire up their outside kitchens and prepare their menus of seafood just as carloads of hungry mouths arrive to watch the sun setting whilst sipping cocktails before dinner.
One Day Ubud - Uluwatu Tours Itinerary :
08:30 – Pick up at the hotel
Visit Celuk Village For Traditional Gold and Silver Art

Visit Batik & Hand Weaving - Tohpati Village
Visit Batuan Art Painting Village

Enjoy Lunch in Ubud
Visit Batuan Temple

Visit Uluwatu Temple

Visit Kecak and Fire Dance Performance

Visit Seafood Dinner at Jimbaran Bay
One Day Ubud- Uluwatu Tours Price :
We offer two price you can choose which is Regular Tours Price and Inclusive Tours Price, Please see below the details of Ubud - Uluwatu Tours Packages price :
Regular Tours Price :
USD 45/car ( 1 till 6 person included)
Inclusion : Private Car / Minibus + Petrol + English Speaking Driver
Note : Entrance fee and Lunch is not include in the price
Area Covered for Pick Up :
Seminyak, Legian, Kuta, Nusa Dua, Jimbaran, Sanur, Ubud, Denpasar, Benoa Harbour, Airport
Please contact us for pick up in different area.