Price
USD 35/car ( 1 till 6 person included)
Book Now
Ubud Tours is the best Bali Half Day Tour Package and very popular Bali Day Tours in Bali Islands for a Half Day Journey to Visit Tourist Destination and other interest places in Ubud Village the center art and culture in Bali islands. Ubud is being one of the famous village most visited in Bali islands due this village offered with many kind beautiful art, myth, and history. Is perfect tourist destination for those who love with Art and Culture history. This Ubud Tours will visit places of interest such as Watching Barong Dance performance tells the story about battle between Barong and Rangda, visit Celuk Village is a traditional village for the incredible gold and silver handicrafts, Ubud Batuan Village is a traditional village with beautiful fine art handicrafts, Ubud Monkey Forest is a small rain forest dwelt by some group of monkeys and other tropical animals, Enjoy Ubud Tours packages with the professional and friendly Bali Tours Driver Service during your holiday by perform excellent services to make Ubud Village journey is memoable one for you and family. Below is a short description about the place of interest you will visit during Ubud Tours.
Places of Interest Will Be Visit During Bali Ubud Tours :
Barong and Keris Dance Performance (Trance Dance)
Barong is a character in the mythology of Bali. He is the king of the spirits, leader of the hosts of good, and enemy of Rangda in the mythological traditions of Bali. Banas Pati Rajah is the fourth "brother" or spirit child that accompanies a child throughout life. Banas Pati Rajah is the spirit which animates Barong. A protector spirit, he is often represented by a lion, and traditional performances of his struggles against Rangda are popular parts of Balinese culture. The Barong Dance is often portraited with two monkeys
The Barong is the magical protector of Balinese villages. As & lord of the forest with fantastic fanged mask and long mane, he is the opponent of Rangda the witch, who rules over the spirits of darkness, in the never ending fight between good and evil. During the Galungan Kuningan festivals, the Barong (there are many types, including barong ket, barong macan, and barong bangkal) wanders from door to door (nglawang) cleansing the territory of evil influences.
Barong and Kris dance like the kecak dance the Barong and Kris dance is a battle between good and evil spirit. Barong can take various forms but in this dance he takes the form of the dance Barong Keket, the most holy of the Barongs. The Barong Keket is a strange creature, half shaggy dog, half lion and is played by two men in much the same way as a circus clown-horse. His opponent is the witch Rangda.
Story of Barong and Kris Dance Performance
The fight between Barong and Rangda is also the topic of traditional narratives, usually performed in the temple of the dead. The most famous is the story of Calonarang, a widow from Jirah who is furious because she cannot find a suitable husband for her daughter Ratna Manggali. All the eligible young men are scared of her black magic, so she gets revenge by wreaking havoc over the kingdom of Daha. The king, Erlangga, tries to punish her, but all his attempts fail. She kills all the soldiers he sends to destroy her. Then Rangda decides to destroy Daha. She summons all her disciples and in the still of night they go to the Setra Gendrainayu cemetery, to present offerings of dead flesh to Durga, the goddess of death. Durga agrees to the destruction, although she warns the witch not to enter the city of Daha. But the witch does not heed Durga's advice and the kingdom is soon hit by grubug (a plague) and the villages quickly become cemeteries, people dying even before they can bury their dead. Corpses are scattered everywhere and the stench is unbearable.The only person who can defeat the witch is Mpu Bharadah. At the king's request, Bharadah sends his disciple Bahula to steal Calonarang's magic Bahula pretends to ask for Ratna Manggali's hand in marriage, and while the witch is away, Bahula steals the magic weapon with the help of Ratna Manggali. Then he gives the stolen weapon to his teacher Bharadah. The weapon turns out to be a manuscript containing the key to ultimate release (mokswhich has been used upside-down by Calonarang. Bharadah goes to Daha to challenge the witch. With the help of the Barong, she is defeated. Before being killed, she asks to be released from her curse and purified.
The story goes that Rangda, the mother of Erlangga, the King of Bali in the tenth century, was condemned by Erlangga's father because she practiced black magic. After she became a widow, she summoned all the evil spirits in the jungle, the leaks and the demons, to come after Erlangga. A fight occurred, but she and her black magic troops were too strong that Erlangga had to ask for the help of Barong. Barong came with Erlangga's soldiers, and fight ensued. Rangda casted a spell that made Erlangga soldiers all wanted to kill themselves, pointing their poisoned keris into their own stomachs and chests. Barong casted a spell that turned their body resistant to the sharp keris. At the end, Barong won, and Rangda ran away.
Somebody can die or get seriously injured in a Barong dance. It is said that if Rangda's spell is too strong, a weak soldier may not be able to resist it, even with the help of Barong. He may end up hurting himself with his own keris. The masks of Barong and Rangda are considered sacred items, and before they are brought out, a priest must be present to offer blessings by sprinkling them with holy water taken from Mount Agung, and offerrings must be presented.
Barong Dance is one of the distinctive arts community of Bali, where Barong it self is symbolic of goodness with shape like a lion. in Barong dance it tells the story about battle between Barong and Rangda, Rangda is a symbolic of badness with shape like a giant with a big canine. Both of them is a reflection of human action in daily life with the good and bad behavior, or in Balinese it's call Dharma and Adharma. Barong is like a doll which being moved by person inside it, Barong is very heavy, this dance usually performed by two big mans that lift and moving the barong from the inside. The story goes that Rangda, the mother of Erlangga, the King of Bali in the tenth century, was condemned by Erlangga's father because she practiced black magic. After she became a widow, she summoned all the evil spirits in the jungle, the leaks and the demons, to come after Erlangga. A fight occurred, but she and her black magic troops were too strong that Erlangga had to ask for the help of Barong. Barong came with Erlangga's soldiers, and fight ensued. Rangda casted a spell that made Erlangga soldiers all wanted to kill themselves, pointing their poisoned keris into their own stomachs and chests. Barong casted a spell that turned their body resistant to the sharp keris. At the end, Barong won, and Rangda ran away.
Barong is probably the most well known dance. It is also another story telling dance, narrating the fight between good and evil. This dance is the classic example of Balinese way of acting out mythology, resulting in myth and history being blended into one reality.

Ubud Celuk Village for Traditional Gold and Silver Art
Celuk Village is formerly as a traditional Balinese village located in the entrance gate of Gianyar Regency ad has changed into a tourist attraction with its trademark in the form of gold and silver. The village located in Sukawati District, Gianyar Regency has the uniqueness and excellent in production of gold and silver handicrafts. Almost all the families and villagers are Balinese who professional, skilled and art soul to develop the creative design and variety of products related to the gold and silvers. This craft village with long historical has been producing gold and silvers that penetrating the local, national and international markets. Various type of jewelry, either as souvenirs or export commodities are produced in this village includes variation type of rings, necklaces, earrings, hairpins, brooch and others. In addition to this, the artisans at Celuk Village are responding to the market demands and also produce the modern products such as medal, models and culture symbols.
History
In the history of gold and silver craft developments, the first step was initiated by the discovery of a family group who belong to Clan Pande. From these families, the gold and silver craft activities spread throughout the entire local communities in this village as a kind of major life gradually shifting their formerly life as the farmer. Around year 1970, it has been changed the community structure significantly at this village. The change was from the agrarian society to the industrial society. And even now, some of them have jumped into the structure of service economic by focusing to the tourism industry. The change was given the positive impact for the prosperity and welfare of the communities. Celuk Village, Kuta and Ubud have been classified as the prosperous village category in Bali with high per capita income.
Location
Celuk Village is strategically located within 10 kilometers from Denpasar City where this village situated in the tourist destination are with the high potential and variety of tourist who visit this place. The following neighbor village includes Batubulan Village famous with Barong Dance and stone carving, Singapadu Village famous with Bali Bird Park and Bali Zoo, Batuan Village famous with the traditional painting, Guang Village famous with the wood carving and Sukawati Village as a center of art and souvenir trading. We can discover the several of gold and silvers gallery along the main road in this village those are opened for tourists.
Potential Trading and Marketing
The creativities of Celuk Village's craftsmen are not only in the local market trading. They are also the craftsmen and businessmen who take the advantage of promotional opportunities and big art festival level like Bali Art Festival, the exhibition in the big city like Jakarta and even they have been carrying out the international trading such as in Europe, Australia, Japan and America.
Best Time to Visit
As a tourist attraction village in south part of Bali Island, Celuk Village is many visited by tourists in the morning and afternoon time. The visit was carried out either at the beginning of tours or when the tourist back to the hotel after having the day tour.
Ubud Batuan Village for Traditional Painting Art
Ubud batuan village is traditional village in Bali, located no so far from Ubud village. In this village is the famous traditional art painting with cheap price and totally beautiful art work. Third visit during the full day ubud tours is visit Batuan village to see process making the traditional painting and see their collection, Batuan village is always become magnet for those like the fine art, the style of traditional painting in Batuan were often dark, crowded representations of either legendary scenes or themes from daily life, freakish animal monsters, and witches accosted people.
Balinese traditional painting
was restricted to ceremony aspect such as religious part, calendar and leather puppet (balinese: wayang). This periode was before 1920 and called as Kamasan orWayang Style. Wayang itself is two dimentional drawing that characterized an hindu-buddhism epic such as Mahabarata and Ramayana. The paintings were used on temple or palace as ornament. They ilustrated many stories about religion and bali life. Ussually it is a pieces of paintings that tell a stories. The name of kamasan style itself was take from the village name where it originated. The material used in kamasan style is also traditional material from mineral and vegetables or plant resources. Also they use white bone, soot, or stone. Bamboo used as tool to painting and the media ( canvas ) ussually traditional canvas from wood, tree leaf, or cloth. In 1920, there are western artist visited bali. This has change the rule on balinese art painting. An introduce of new canvas from western material, inks and paint, has change the style into modern art painting. The year has start a new way of balinese modern art painting. More artists come to bali has influence traditional style that was restricted to ceremony aspect.
Batuan village wasn't influenced by the western as they were in Ubud. The Batuan paintings were often dark, crowded representations of either legendary scenes or themes from daily life, freakish animal monsters, and witches accosted people. The Batuan Village paintings were gradations of black to white ink washes laid over most of the surface, so as to create an atmosphere of darkness and gloom. In the later years, the designs covered the entire space, which often contributed to the crowded nature of these Balinese paintings.
The Batuan Village artisans
Are known for their Balinese Artwork. Leading artists of the 1930s members of leading Brahman families, including Ida Bagus Made Togog, I Dewa Nyoman Mura (1877-1950) and I Dewa Putu Kebes (1874-1962), which were traditional Wayang-style Balinese painters for temples' ceremonial textiles.
Story Of Batuan Village Painting Art
For over a thousand years Batuan has been a village of Balinese Artwork and Bali handicrafts. Batuan village has a thousand year old history in accordance with the recorded history - begins in A.D. 1022, with an inscription that is housed in the main village temple, Pura Desa Batuan/Batuan Village Temple. In the Age of Warmadewa Dynasty in Bali, Desa Batuan / Batuan Village had to be there. Batuan village eventually came to be called Batuan, from the word of Batu / Rock, because - in that time - in this region is a rocky area (the famous Balinese sand stones are still produced here in northern of Batuan), then because of daily changes in the pronunciation then more popularly known as Batuan Village.
Mas Village | Bali Wood Carving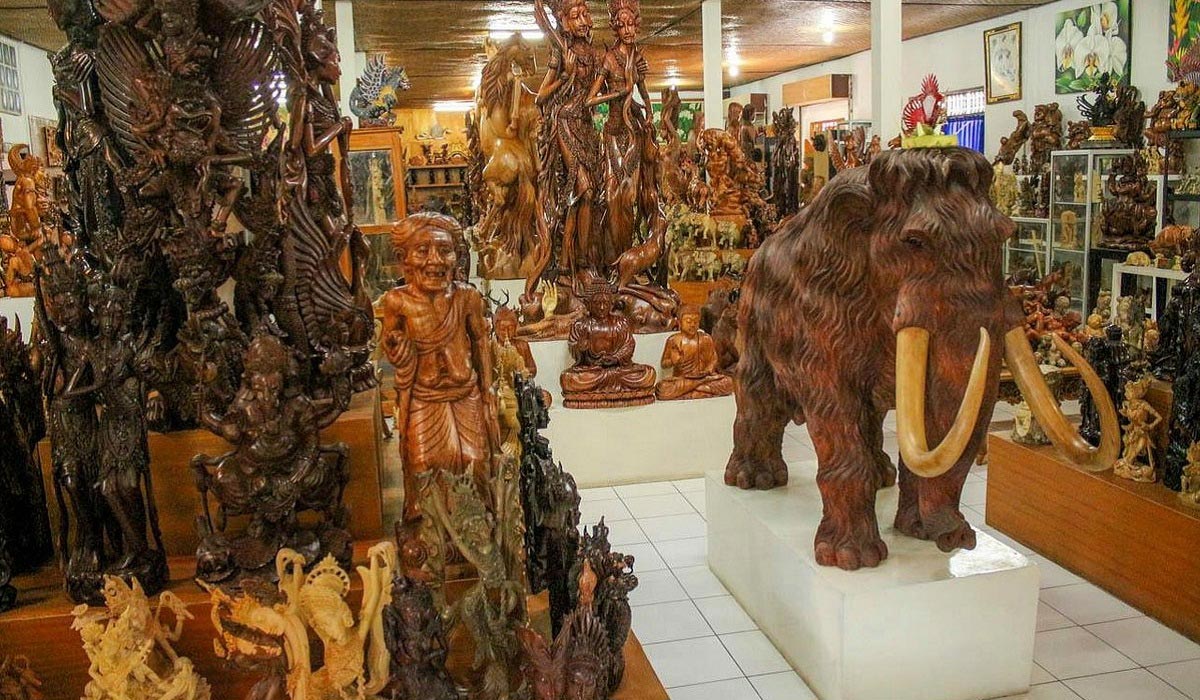 Mas Village is one of villages in Bali fundamentally indentified as an artistic countryside by focusing in artistic of wood carving. It is situated in Ubud District and Gianyar Regency has a distinctive style in the art carving of wood sculptures that promotes characteristic synergy of humanism and naturalism. The fame of this village as a village of art has been recognized nationally and internationally which cannot be separated from the greatness name of some maestros who born, growth and find their identities and spirit of art in Mas Village like the famous artist, Ida bagus Tilem (deceased) and others.
The village on it development
Mas Villagers are not different with other people in the tourist destination village in Bali, where they have undergone a transformation from the agrarian to the craftsmen societies and now continuing to the societies of both trade and procurement of souvenirs for domestic and foreign tourists. Although the principle identity of Mas Village is sculpture village, it is now also developing several tourism objects and attractions that have enriched the fascinations of this village. One tourism object and culture attraction with huge potential and importance in the northern of the village is Rudana Museum, one of the monumental museums about Bali's art especially painting. This museum has many collections, distinctive and collected the various of art.
Location
Mas Village is strategically located in the center of tourist destination and easily reached from any direction with any vehicles. If it is related toDenpasar City position, then Mas Village location is located about 15 km east direction to the Ubud way. The starting point entrance to Mas Village is Sakah junction with big monumental statue of baby positioning in the middle of road. This baby statue is a symbol and representation of the early life of Balinese in the local Balinese wisdom believes that is close with value, philosophy, religious and dynamism. In according with the Balinese cognitive, the baby is representing the fertility and the early life stage of human before entering the next life cycle includes Brahmacari (Learning phase), Grehasta (married phase), Wana Prasta ( the phase of maturation and stabilization of life spiritual life aspect) and Sanyasin (the phase of meeting the dead and eternal life in other worlds).
Tourist Destinations
Mas Village as one of the tourism object and attraction in Gianyar Regency is located between the village of arts that are mutually supportive and complimentary. In south of this village there is Batuan Village famous with the traditional painting of Batuan style, in east there is Kemenuh Village famous with the center of wood carving, in west is Lod Tunduh Village famous with painting, in the north is Peliatan Village famous with traditional dances and Kerawitan gamelan. In the northeast of this village, there is Goa Gajah, a famous tourist destination with cultures and archeological as a representation of diversity and the feature archeological of Balinese cultures.
Ubud Monkey Forest
Ubud Monkey Forest also known as Ubud Wanara Wana is a nature reserve temple complex in Ubud and as a place of monkey forest sanctuary. Six visits during the full day ubud tours is to explore the beauty of ubud monkey forest by dwelt by some group of monkeys and other tropical animals. Ubud Monkey Forest itself own very important function of the continuity the monkey habitat in Bali. Meanwhile the Ubud local community own important role to keep this forest naturally in order to all wild animals able to live smoothly. It is important to treat the monkeys with respect as this forest is their home and you are a guest in it.

Monkey Populations
Ubud Monkey Forest is dwelt by more than 200 monkeys belonging to long tailed monkey group in Latin language called macaques or Macaca fascicularis that has the wide distribution area. Among the number of monkeys, there are around 23 adult male monkeys, 79 adult female and more than 98 were children. All monkeys in the forest are consisted of 3 groups that occupying a certain area and use the certain place including the certain time as well. When two groups are existing in one place at the same time, hence the fight is difficult to be avoided. Those monkeys are believed by the local societies as the holy monkeys that keep the temple and forest from the bad influences.
Surrounding Area
There are three holy temples existing in this forest where all of those are predicted built in 14 century, in the beginning of Gelgel Dynasty. Dalem Agung Temple is located southwest of this forest become a main temple beside of the other two temples includes Pemandian Suci and Prajapati Temple. The other side, there are plenty of souvenir shops sell the variety of Balinese local souvenirs for tourists, the restaurants are not far from this forest and other tourist destinations such as Ubud Palace, Puri Lukisan Painting Museum, ARMA Painting Museum, Neka Painting Museum, Goa Gajah etc.
Half Day Ubud Tours Itinerary :
08:30 – Pick up at the hotel
Watching Barong and Keris and Dance Performance (Trance Dance)
Visit Celuk Vilage for Traditional Gold and Silver Smith
Visit Batuan Village for Traditional Art Painting
Half Day Ubud Tours Price :
We offer two price you can choose which is Regular Tours Price and Inclusive Tours Price, Please see below the details of Ubud Tours Packages price :
Regular Tours Price :
USD 35/car ( 1 till 6 person included)
Inclusion : Private Car / Minibus + Petrol + English Speaking Driver
Note : Entrance fee and Lunch is not include in the price
Area Covered for Pick Up :
Seminyak, Legian, Kuta, Nusa Dua, Jimbaran, Sanur, Ubud, Denpasar, Benoa Harbour, Airport
Please contact us for pick up in different area.