Price
USD 35/car ( 1 till 6 person included)
Book Now
Tanah Lot Tour is a Bali Half Day Tour Packages to Visit Tanah Lot Temple the most popular tourist destinations in Bali with famous breathtaking view of sunset view with Tanah Lot Temple as a background. Is the famous half day Tanah Lot tour to explore the beauty tourist destination in Bali islands with breathtaking nature panorama view and spectacular temple. This half day Tanah lot tour will explore the Sangeh Mongkey Forest is Balinese temple in small forest with monkey habitat , then we continue visit the Taman Ayun Temple is Balinese Hindu temple was built on the flat land with big fish pond surround it in Mengwi regency, and then the last site will be visit during the amazing Tanah lot sunset tour is the spectacular Tanah Lot Temple is beautiful Hindu temple located in small rock in the sea and has a magnificent view of sunset, Tanah lot temple always become magnet to tourist for enjoy the amazing vie of sunset and see other tourist attraction such as the Holy snake located opposite the Tanah lot temple and the holy water located beneath the Tanah lot temple. Tanah Lot Tour is very exciting and full of memory and is very comfortable with our private car with full air-condition and professional Bali Tours Driver Service. Will be enjoyable come with our professional tour guide who is always offer our best services during the trip. Below is short description places of interest will be visit during Tanah Lot Tour.
Places of Interest Will Be Visit During Tanah Lot Tours :
Sangeh Monkey Forest
Sangeh is a small tropical rain forest surrounded by the rice field with high and shady tropical trees where this place as a habitat for group of monkeys. The atmosphere of beautiful forest is an ideal place for monkeys to take refuge and become one of attractions for tourist to visit this place. This are has bee opened as a tourist destination in Bali located in north of Denpasar City and about 30 minutes away from this capital city of Bali Province.
Mythology
In the 17 century when the golden era of Mengwi Kingdom led by I Gusti Agung Ketut Karangasem, the son of I Gusti Agung Made Agung, founded a temple in the middle of nutmeg forest, hereinafter called by Bukit Sari Temple (the forest that mean here is the rest of the mixture of vegetation covering 10,8 ha and will be expanded into 3,169 ha). The myth of Sangeh forest formation is associated with the removal of timber forest in Agung mount at Karangasem, east part of Bali to Mengwi, Badung regency. However on the way to Mengwi, someone was realized it and the timber forest growth become a forest and now this forest called by Sangeh. But scientifically there is uncertain story about the existing of this forest.
Conditions
According to the staff of information center department at KSDA (Natural Resources Conservation), in year 2003, the Sangeh forest is covered by 6.825 tropical trees consisted of 28 species of tree including 22 species of shrubs/bushes. In the expansion are (3,169 ha) located in west part of this forest, it has been planted by several species of plants including sapodilla, mahogany and guava. Some of them will be expected to be a source of foods for 500 monkeys.
Species Living in Sangeh Forest
According to the staff of information center department at KSDA (Natural Resources Conservation), in year 2003, the Sangeh forest is covered by 6.825 tropical trees consisted of 28 species of tree including 22 species of shrubs/bushes. In the expansion are (3,169 ha) located in west part of this forest, it has been planted by several species of plants including sapodilla, mahogany and guava. Some of them will be expected to be a source of foods for 500 monkeys.
The species of monkeys live in Sangeh are Macaca fascicularis. Those monkeys are living in three different groups (east, middle and west) which will cause of conflict if they invade the other territorial. Overall, the animals live in this forest have been indentified into 22 species of birth (aves), 3 species of reptile, 2 species of amphibian and 5 species of arthropod.
Tourism Object
Sangeh is managed by a specialized manager formed by the local custom villagers with 22 staff. In addition to this, they frequently assisted by the staff from Government Forest Service especially from KSDA including DVO Badung. This tourism object is opened everyday from 07.30 am until 06.00 pm.
Taman Ayun Mengwi Royal Kingdom Temple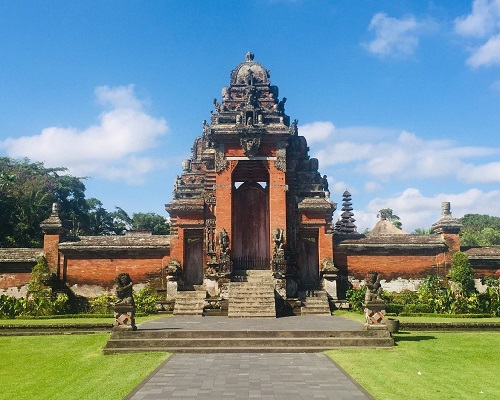 Taman Ayun Temple is a very beautiful Hindu temple uniquely designed with a distinctive style of Balinese architecture and surrounded by a large of fishpond that looks like floating on the water. This temple is featured by the unique shape of temple building with towering tiers style decorated with Balinese ornaments with high artistic values that gives the sacred for its temple. This temple is well also known as a Royal Mengwi Temple located in Mengwi District, Gadung Regency, about 18 km north of Denpasar City. Its location is easily reached through the main road from Denpasar to Singaraja via Bedugul direction.
The History of Taman Ayun
Based on Lontar Babad Mengwi (Lontar = inscription made from palm leaf, Babad = history), the temple is now called by Taman Ayun temple formerly when it just completed had been purified in year 1634 which is called by Taman Ahyun Temple. The Ahyun's word is derived from Hyun that means desire, so the Ahyun means desire. Taman Ahyun Temple means a temple that was established in a park (pond with beautiful flower garden) that can fulfill the desire. From that Ahyun word overtime turned into Ayun Word.
In Lontar Dwijendra Tattwa had been described that Danghyang Nirartha (a Hindu Priest spread out the Hinduism in Bali) on his holy journey ever done yoga in a place with a spring surrounded by trees and blooming flowers with flows river just located in east side of his yoga site. The area was later named by 'Taman Sari or Taman Wulakan Temple', meanwhile the surrounding area is called by Mangapuri. This Mangapuri word has been predicted turn intoMangui and now become Mengwi. Manga or Mango may be derived from 'Mangu' that means think/thoughtful or meditation. From those reason, Mangupuri is means that a good place for yoga or contemplation.
The History of Taman Ayun Based on Archeology Data
Taman Ayun Temple history can be known from the archeology data existing in this temple and the data from Lontar Babad Mengwi.
1. Based on the archeological data that in the left front of entrance gate when entering the fist courtyard (Jaba sisi) of Taman Ayun Temple, there are two buildings those are called by Batu Aya and Bedugul Krama Carik. Here, we can find a relic from megalithic tradition era in form of stone petals Menhirassigned getting irregularly upward. Getting to the top, then it grew smaller and makes the pyramid terrace shape. Based on the presence of this relic, it is known that the location of Taman Ayun Temple had been used as a place for ritual activities related to the fertility ceremony in agriculture since the megalithic tradition development around 500 BC.
2. Data in Babad Mengwi had mentioned that I Gusti Agung Putu pioneered his power from the gift of forest land and selected people in total of 200 people from a chief of Marga Village, I Gusti Babalang. That forest land had been leveled and then I Gusti Agung Putu founded a palace with the name of Puri Bala Ayu and now is called Belayu.
Function of Taman Ayun Temple
Taman Ayun Temple Function can be determined from the content of Babab Mengwi and the presence of building structure or Pelinggih including it functions especially located in main temple area.
1. Worship of God. Istadewata is main god worshiped at Taman Ayun Temple is a god manifestation as Lord Vishnu who also worshiped at Puncak Gunung Mangu (on the top of Mangu Mount) where in Babad Mengwi called by Hyanging Parwata Gunung Mangu or Danawa Lord.
2. In row of Pelinggih (temple building) that are located in the north, there is a temple building (Prasada) approximately 4 feet tall and it is called by Cili Gading Temple as a worship for Cili Gading Goddess. It seems that referred as Cili Gading Goddess is another term for Cili Goddess or Sri Goddess or Laksmi Goddess (wife of Vishnu Lord).
Tanah Lot Temple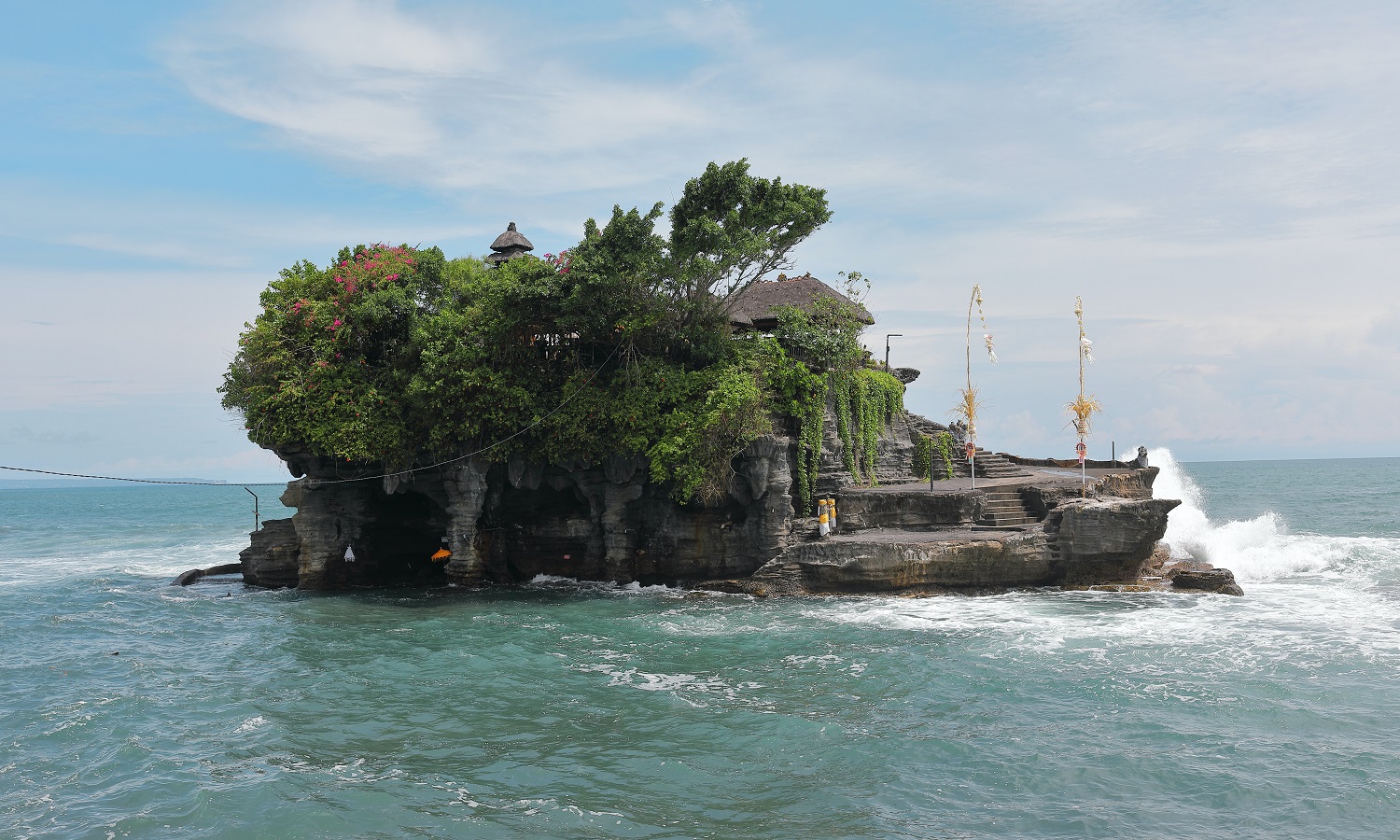 Bali Tanah Lot Temple is located in coastal side of Beraban countryside, Kediri sub district and Tabanan Regency. It is situated in 30 Km in west side of Denpasar town and about 11 Km in south side of Tabanan town. The temple is built on the rock with 3 acre size and reachable in a few minute by walk, because it is just 20 meters from the coastal lip. This temple is very famous among tourist destinations in Bali with spectacular view of sunset. At some nooks of coral reef around Tanah Lot Temple.
Meaning of Word Tanah Lot Temple
The word of Tanah Lot is consisted of two words that are Tanah word interpreted as a reef looking like gili or isle. Lot or Lod word has meaning the sea. So Tanah Lot is meaning the small island floating on the sea. The location is now called as Tanah Lot has been used at a Megalithic period as a place that looked into holy, proven from the existence of menhir. Pursuant to environmental condition, hence the structure of Tanah Lot Temple is built at irregular reef plain of its angle which is only consisted of one plain yard as Jeroan. Tanah Lot Temple differences with other temples on the island of Bali, Tanah Lot does not have a few pages because it is built on a plain of coral that irregular corners of his home. Inside the actual temple compound itself there are tiered shrines that follow the fundamental elements of Balinese design where the number of levels constructed are symbolic to the complexities of the faith. There are other formations within the area that indicate that the site is not only of great religious importance, but also maintains archaeological value. Temple nestled in the ocean has a ritual or ceremony which takes place every 6 months or 210 days. At that time all the Hindus from different areas in Bali will come to worship in peace and harmony to invoke
History Tanah Lot Temple :
Dang Hyang Nirartha" or better known as Pedanda Sakti Wau Rauh" that came from the region of Blambangan, East Java to Bali Island around the 16th century. At the time of the Reign of King Dalem Waturenggong in Gelgel, Bali. Later, he held a sacred journey (Dharmayatra) and walk down the south coast of the Bali Island from the western to the eastern regions. In the journey, in the end he found a beach in Tabanan area (now is Tabanan Regency), not far from the Baraban Village. Furthermore, he saw a rock in the shape of a small island in the sea. In this place he meditate and he felt the vibrations of chastity. So on top of the rock, he suggested setting up a holy building for worship of God then is now the Tanah Lot Temple.
The Uniqueness of Tanah Lot Temple
SNAKE TANAH LOT TEMPLE One of the uniqueness of the owned Tanah Lot is across the street from the temple there are a number of caves in which lived a few sea snakes are colored black and white generally can be met in the coast. Part of its stomach there are no athwart skin, there is only small skin, but this sea water snake very noxious but snake bite case are very seldom happened, because the sea water snake generally very passive. These snakes are very tame and not to be bullied for being considered a forerunner of the keeper and protect the entire area from unseen evil forces. Then there is also the trust in the Tanah Lot Temple there is also the source of holy water, exactly beneath the temple. Holy water is believed can bring sustenance to anyone who drank it.
The function of this temple can be realized from the function of the main temple building which is located in the temple main area. In this place, there is a main temple to worship the god in form of Dewa Baruna or Bhatara Segara, the sea power. The media of worship to this god is the temple building with 5 storied meanwhile the 3 storied temple building in north part of this area is purposing to worship to Dang Hyang Nirartha.
Function of Tanah Lot Temple
In order to know the status of Tanah Lot Temple can be realized from the temple history, function and also incoming devotee existence pray when temple ceremony is held. In this case can be realized as follows:
Tanah Lot Temple as dang Kahyangan (the big Holy Temples in Bali), because the history and the Penyiwi (The people taking care of the temple) are from the local people from Tabanan regency and surrounding area
Tanah Lot Temple as Segara Temple, because its function as sanctum to worship the Bhatara Segara, the God with manifestation as the ocean Power Deity
Not be separated from the myths that includes everything from the establishment of the Tanah Lot Temple this temple remains one of the main icons oftourism in Bali Island. This will be an impressive religious tourism travel for you let alone a visit while holding rituals accompanied by the event themed Tanah Lot Spectacular will make a trip on the Bali Island is becoming increasingly a memorable one.
The most popular time to pay a visit to Tanah Lot Temple is late afternoon when the sun begins to settle over the horizon and the temple is silhouetted against the vibrant glow of the sky. The site draws a crowd of travellers who come by bus load to witness this magnificent temple scene against a background of crashing waves.
Half Day Tanah Lot Tours Itinerary :
08:30 – Pick up at the hotel
Visit Sangeh Monkey Forest
Visit Taman Ayun Temple

Visit Tanah Lot Temple
Half Day Tanah Lot Tours Price :
We offer two price you can choose which is Regular Tours Price and Inclusive Tours Price, Please see below the details of Tanah Lot Tours Packages price :
Regular Tours Price :
USD 35/car ( 1 till 6 person included)
Inclusion : Private Car / Minibus + Petrol + English Speaking Driver
Note : Entrance fee and Lunch is not include in the price
Area Covered for Pick Up :
Seminyak, Legian, Kuta, Nusa Dua, Jimbaran, Sanur, Ubud, Denpasar, Benoa Harbour, Airport
Please contact us for pick up in different area.