Price
USD 30/car ( 1 till 6 person included)
Book Now
Shopping Tours is the best Bali Half Day Tour Package to visiting balinese traditional art shop. Our professional Tours Driver leads your Bali Shopping Tour and guides you to the right places of art shop and offers the wide information about all art shop including your questions. Bali Shopping Tour will visit places of interest such as Tohpati Village for batik textile art, Celuk Village for gold and silver art, Batuan Village for beautiful painting art and Mas Village for amazing wood carving art. Our comfortable car with fully air-conditioning is featuring this Bali Shopping Tour to keep your tour more enjoyable while our Bali Tours Driver is always fully care of your safety and ensure your Bali Shopping Tour is memorable one. Below is short description places of interest will be visit during Bali Shopping Tour.
Places of Interest Will Be Visit During Bali Bali Shopping Tours :
Tohpati Village for Batik Art
Tohpati is widely known as the center of handmade Balinese Batik with various colors and shapes. Here the visitors will be exhibited the Batik making and hand weaving process. Finally you can buy some to bring home. The specialties of Balinese Batik can be seen from the strong Javanese motifs ; some of modern Batik applies the paintings objects, such as Balinese culture, ceremonies, beautiful sites, or mythological figures. Batik is one of the most beautiful wearable art and the approach to the order sid of Balinese rich culture.
Tohpati Village is a batik home industry, you will undoubtedly experience an overwhelming stimulation of the senses – due to the many colors, patterns and the actual smell of batik. Only through repeated visits and a bit of study will the types of designs and their origins become apparent.
History Batik :
Evidence of early examples of batik have been found in the Far East, Middle East, Central Asia and India from over 2000 years ago. It is conceivable that these areas developed independently, without the influence from trade or cultural exchanges. However, it is more likely that the craft spread from Asia to the islands of the Malay Archipelago and west to the Middle East through the caravan route. Batik was practised in China as early as the Sui Dynasty (AD 581-618). These were silk batiks and these have also been discovered in Nara, Japan in the form of screens and ascribed to the Nara period (AD 710-794). It is probable that these were made by Chinese artists. They are decorated with trees, animals, flute players, hunting scenes and stylised mountains.
No evidence of very old cotton batiks have been found in India but frescoes in the Ajunta caves depict head wraps and garments which could well have been batiks. In Java and Bali temple ruins contain figures whose garments are patterned in a manner suggestive of batik. By 1677 there is evidence of a considerable export trade, mostly on silk from China to Java, Sumatra, Persia and Hindustan. In Egypt linen and occasionally woollen fabrics have been excavated bearing white patterns on a blue ground and are the oldest known and date from the 5th century A.D. They were made in Egypt, possibly Syria. In central Africa resist dyeing using cassava and rice paste has existed for centuries in the Yoruba tribe of Southern Nigeria and Senegal.
Indonesia, most particularly the island of Java, is the area where batik has reached the greatest peak of accomplishment. The Dutch brought Indonesian craftsmen to teach the craft to Dutch warders in several factories in Holland from 1835. The Swiss produced imitation batik in the early 1940s. A wax block form of printing was developed in Java using a cap.
By the early 1900s the Germans had developed mass production of batiks. There are many examples of this form of batik as well as hand-produced work in many parts of the world today. Computerisation of batik techniques is a very recent development.

Ubud Celuk Village for Traditional Gold and Silver Art
Celuk Village is formerly as a traditional Balinese village located in the entrance gate of Gianyar Regency ad has changed into a tourist attraction with its trademark in the form of gold and silver. The village located in Sukawati District, Gianyar Regency has the uniqueness and excellent in production of gold and silver handicrafts. Almost all the families and villagers are Balinese who professional, skilled and art soul to develop the creative design and variety of products related to the gold and silvers. This craft village with long historical has been producing gold and silvers that penetrating the local, national and international markets. Various type of jewelry, either as souvenirs or export commodities are produced in this village includes variation type of rings, necklaces, earrings, hairpins, brooch and others. In addition to this, the artisans at Celuk Village are responding to the market demands and also produce the modern products such as medal, models and culture symbols.
History
In the history of gold and silver craft developments, the first step was initiated by the discovery of a family group who belong to Clan Pande. From these families, the gold and silver craft activities spread throughout the entire local communities in this village as a kind of major life gradually shifting their formerly life as the farmer. Around year 1970, it has been changed the community structure significantly at this village. The change was from the agrarian society to the industrial society. And even now, some of them have jumped into the structure of service economic by focusing to the tourism industry. The change was given the positive impact for the prosperity and welfare of the communities. Celuk Village, Kuta and Ubud have been classified as the prosperous village category in Bali with high per capita income.
Location
Celuk Village is strategically located within 10 kilometers from Denpasar City where this village situated in the tourist destination are with the high potential and variety of tourist who visit this place. The following neighbor village includes Batubulan Village famous with Barong Dance and stone carving, Singapadu Village famous with Bali Bird Park and Bali Zoo, Batuan Village famous with the traditional painting, Guang Village famous with the wood carving and Sukawati Village as a center of art and souvenir trading. We can discover the several of gold and silvers gallery along the main road in this village those are opened for tourists.
Potential Trading and Marketing
The creativities of Celuk Village's craftsmen are not only in the local market trading. They are also the craftsmen and businessmen who take the advantage of promotional opportunities and big art festival level like Bali Art Festival, the exhibition in the big city like Jakarta and even they have been carrying out the international trading such as in Europe, Australia, Japan and America.
Best Time to Visit
As a tourist attraction village in south part of Bali Island, Celuk Village is many visited by tourists in the morning and afternoon time. The visit was carried out either at the beginning of tours or when the tourist back to the hotel after having the day tour.
Ubud Batuan Village for Traditional Painting Art
Ubud batuan village is traditional village in Bali, located no so far from Ubud village. In this village is the famous traditional art painting with cheap price and totally beautiful art work. Third visit during the full day ubud tours is visit Batuan village to see process making the traditional painting and see their collection, Batuan village is always become magnet for those like the fine art, the style of traditional painting in Batuan were often dark, crowded representations of either legendary scenes or themes from daily life, freakish animal monsters, and witches accosted people.
Balinese traditional painting
was restricted to ceremony aspect such as religious part, calendar and leather puppet (balinese: wayang). This periode was before 1920 and called as Kamasan orWayang Style. Wayang itself is two dimentional drawing that characterized an hindu-buddhism epic such as Mahabarata and Ramayana. The paintings were used on temple or palace as ornament. They ilustrated many stories about religion and bali life. Ussually it is a pieces of paintings that tell a stories. The name of kamasan style itself was take from the village name where it originated. The material used in kamasan style is also traditional material from mineral and vegetables or plant resources. Also they use white bone, soot, or stone. Bamboo used as tool to painting and the media ( canvas ) ussually traditional canvas from wood, tree leaf, or cloth. In 1920, there are western artist visited bali. This has change the rule on balinese art painting. An introduce of new canvas from western material, inks and paint, has change the style into modern art painting. The year has start a new way of balinese modern art painting. More artists come to bali has influence traditional style that was restricted to ceremony aspect.
Batuan village wasn't influenced by the western as they were in Ubud. The Batuan paintings were often dark, crowded representations of either legendary scenes or themes from daily life, freakish animal monsters, and witches accosted people. The Batuan Village paintings were gradations of black to white ink washes laid over most of the surface, so as to create an atmosphere of darkness and gloom. In the later years, the designs covered the entire space, which often contributed to the crowded nature of these Balinese paintings.
The Batuan Village artisans
Are known for their Balinese Artwork. Leading artists of the 1930s members of leading Brahman families, including Ida Bagus Made Togog, I Dewa Nyoman Mura (1877-1950) and I Dewa Putu Kebes (1874-1962), which were traditional Wayang-style Balinese painters for temples' ceremonial textiles.
Story Of Batuan Village Painting Art
For over a thousand years Batuan has been a village of Balinese Artwork and Bali handicrafts. Batuan village has a thousand year old history in accordance with the recorded history - begins in A.D. 1022, with an inscription that is housed in the main village temple, Pura Desa Batuan/Batuan Village Temple. In the Age of Warmadewa Dynasty in Bali, Desa Batuan / Batuan Village had to be there. Batuan village eventually came to be called Batuan, from the word of Batu / Rock, because - in that time - in this region is a rocky area (the famous Balinese sand stones are still produced here in northern of Batuan), then because of daily changes in the pronunciation then more popularly known as Batuan Village.
Mas Village | Bali Wood Carving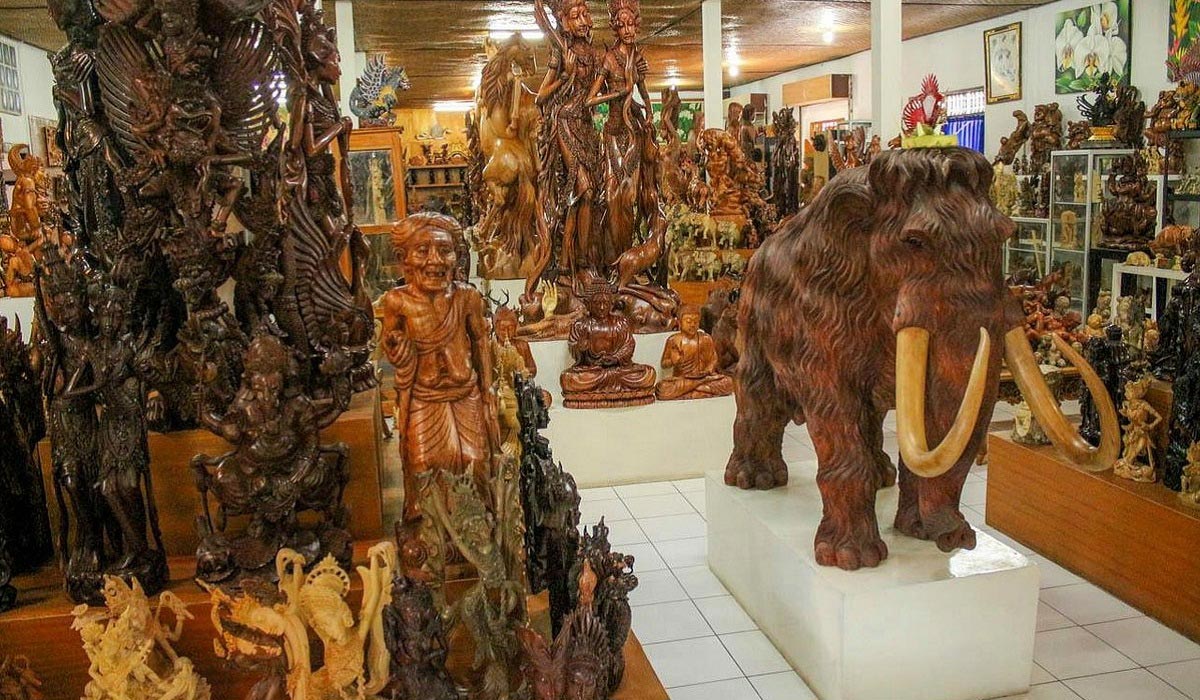 Mas Village is one of villages in Bali fundamentally indentified as an artistic countryside by focusing in artistic of wood carving. It is situated in Ubud District and Gianyar Regency has a distinctive style in the art carving of wood sculptures that promotes characteristic synergy of humanism and naturalism. The fame of this village as a village of art has been recognized nationally and internationally which cannot be separated from the greatness name of some maestros who born, growth and find their identities and spirit of art in Mas Village like the famous artist, Ida bagus Tilem (deceased) and others.

The village on it development
Mas Villagers are not different with other people in the tourist destination village in Bali, where they have undergone a transformation from the agrarian to the craftsmen societies and now continuing to the societies of both trade and procurement of souvenirs for domestic and foreign tourists. Although the principle identity of Mas Village is sculpture village, it is now also developing several tourism objects and attractions that have enriched the fascinations of this village. One tourism object and culture attraction with huge potential and importance in the northern of the village is Rudana Museum, one of the monumental museums about Bali's art especially painting. This museum has many collections, distinctive and collected the various of art.
Location
Mas Village is strategically located in the center of tourist destination and easily reached from any direction with any vehicles. If it is related toDenpasar City position, then Mas Village location is located about 15 km east direction to the Ubud way. The starting point entrance to Mas Village is Sakah junction with big monumental statue of baby positioning in the middle of road. This baby statue is a symbol and representation of the early life of Balinese in the local Balinese wisdom believes that is close with value, philosophy, religious and dynamism. In according with the Balinese cognitive, the baby is representing the fertility and the early life stage of human before entering the next life cycle includes Brahmacari (Learning phase), Grehasta (married phase), Wana Prasta ( the phase of maturation and stabilization of life spiritual life aspect) and Sanyasin (the phase of meeting the dead and eternal life in other worlds).
Tourist Destinations
Mas Village as one of the tourism object and attraction in Gianyar Regency is located between the village of arts that are mutually supportive and complimentary. In south of this village there is Batuan Village famous with the traditional painting of Batuan style, in east there is Kemenuh Village famous with the center of wood carving, in west is Lod Tunduh Village famous with painting, in the north is Peliatan Village famous with traditional dances and Kerawitan gamelan. In the northeast of this village, there is Goa Gajah, a famous tourist destination with cultures and archeological as a representation of diversity and the feature archeological of Balinese cultures.
Half Day Bali Shopping Tours Itinerary :
08:30 – Pick up at the hotel
Visit Batik & Hand Weaving - Tohpati Village
Visit Celuk Vilage for Traditional Gold and Silver Smith
Visit Batuan Village for Traditional Art Painting
Visit Mas Village for Wood Carving Art
Half Day Bali Shopping Tours Price :
We offer two price you can choose which is Regular Tours Price and Inclusive Tours Price, Please see below the details of Bali Shopping Tours Packages price :
Regular Tours Price :
USD 30/car ( 1 till 6 person included)
Inclusion : Private Car / Minibus + Petrol + English Speaking Driver
Note : Entrance fee and Lunch is not include in the price
Area Covered for Pick Up :
Seminyak, Legian, Kuta, Nusa Dua, Jimbaran, Sanur, Ubud, Denpasar, Benoa Harbour, Airport
Please contact us for pick up in different area.