Bali Elephant Ride and Uluwatu Tour
BALI ELEPHANT RIDE AND ULUWATU TOUR
Bali Elephant Ride and Uluwatu Tour is a Bali Combination Tour Packages we designed for your holiday by feel the experience Riding an elephant at Bakas Village and Continue visiting Uluwatu Temple in the south of Bali islands. This is great combination we offer to make your holiday more enjoyable by try the different tour experience which is do activities and adventure riding an elephant and visiting the best tourist destination of Uluwatu Temple. This Bali Elephant Ride and Uluwatu Tour will start to visit Bakas Village for enjoy the Elephant Ride through the jungle, cross the river and passed the Balinese village, is great view from the top of elephant and great moment too. Then the Bali Elephant Ride and Uluwatu Tour will continue visiting Garuda Wisnu Kencana to see bali cultural park with area 240 hectares large, then continue to visit the Pandawa beach or most know as a secret beach, is new beach recently open, then visiting Uluwatu Temple with breathtaking view of Indian Ocean from the temple. You will excited and impressed if first time see this temple, due Uluwatu temple located on the cliff with high 70 meter high and around the temple you will meet hundreds of monkey roaming and play each other. Is great experience, Below is description of places of interest will be visit during Bali Elephant Ride and Uluwatu Temple Tour.
Places of Interest Will Be Visit During Bali Elephant Ride and UuwatuTours :
Elephant Ride Tour

Elephant Ride Tour
is a Bali Elephant Ride Tour package and one of the Elephant Ride in the village of Bakas klungkung regency. it is located at the Starting Point of Bakas Levi Rafting, a prime tourist destination in Bali that enable the package to be combined with Kintamani Tour, Besakih Tour and other Bali Tour Package to other places of interest. In addition, Bakas exotic and natural scenery while relaxing on a teak chair placed at an elephant's back.
Bali offers not just various customs but also various adventures parks. Many exciting amusements are available in Bali, with something new opening all time. The number of offshore and inland attraction are on the rise because many tourists want them. Adventure Activities in Bali by Bakas adventure offer you to join
Petang Elephant Ride Tour
program.
Experience Bali most exciting and spectacular actions of Elephant Ride. Get Fun in and Choose our Elephant Ride Trip such as Short Ride is 15 and 30 Minutes Elephant Ride, Medium Elephant Ride is 40 Minutes Elephant Ride and Long Ride is 60 Minutes Elephant Ride Tour. All our services are with international standard safety, equipments and guides applied. Covered also with insurance.
Garuda Wisnu Kencana (GWK)

Garuda Wisnu Kencana (GWK) Bali is located in the southern Badung area about 20 minutes from Kuta. That's very easy to access it from the Ngurah Rai Airport and hotels in Nusa Dua. Garuda Wisnu Kencana (GWK) Bali cultural park is located in the hills of limestone and rock, exactly over the hill of Nusa Dua Pecatu-Badung regency that about 40 kilometers south of Denpasar City Bali, it was approximately 30 minutes drive from Ngurah Rai when using a motor vehicle.
Landscapes Garuda Wisnu Kencana
Bali Garuda Wisnu Kencana Cultural Park is an area with 240 hectares of land. There are Supporting facilities that you can enjoy like Lotus Pond, Festival Park, Amphitheater, Street Theater, Exhibition Hall, and Jendela Bali The Panoramic Resto and souvenir shop as well. There are many cultural performances every day at
GWK
. Barong Dance Performance is the most popular show in there and also performances of traditional Balinese music.
Various uniqueness and beauty of Bali are well in view of the history, traditions, cultural customs, arts and panorama attraction. Of many attractions in Bali one of them is Garuda Wisnu Kencana that abbreviated. Garuda Wisnu Kencana (GWK) Bali cultural park is the window of island arts and culture against the backdrop of nature and an amazing panorama, making one of the main objectives for a variety of performing arts, exhibitions, conferences or religious visits.
Story of Garuda Wisnu Kencana
Here is the story of Garuda Wisnu Kencana which follow the birth and deeds of the mythical bird Garudaas quoted from Wikipedia. You can find this story carved into stone relief, placed in GWK Street Theater.
The story of Garuda birth and deeds is told in the first book of the great epic Mahabharata. According to the epic, when Garuda first burst forth from his egg, he appeared as a raging inferno equal to the cosmic conflagration that consumes the world at the end of every age. Frightened, the gods begged him for mercy. Garuda, hearing their plea, reduced himself in size and energy.
Garuda's father was the creator-rishi Kasyapa. His mother was Vinata, whose sister was Kadru, the mother of serpents. One day, Vinata entered into and lost a foolish bet, as a result of which she became enslaved to her sister.
Mahabharata mentions about a bet between sisters and wives of Kashyapa, Vinata and Kadru, about the colour of Uchchaihshravas's tail. While Vinata, the mother of Garuda and Aruna, said it was white, Kadru said it was black. The loser would have to serve as a servant of the winner. Kadru told her sons, Naga ("serpent"), to cover the tail of the horse and thus make it appear as black in colour and thus, Kadru won.
Resolving to release his mother from this state of bondage, Garuda approached the serpents and asked them what it would take to purchase her freedom. Their reply was that Garuda would have to bring them the elixir of immortality, also called amrita. It was a tall order. The amrita at that time found itself in the possession of the gods, who guarded it jealously, since it was the source of their immortality. They had ringed the elixir with a massive fire that covered the sky. They had blocked the way to the elixir with a fierce mechanical contraption of sharp rotating blades. And finally, they had stationed two gigantic poisonous snakes next to the elixir as deadly guardians.
Undaunted, Garuda hastened toward the abode of the gods intent on robbing them of their treasure. Knowing of his design, the gods met him in full battle-array. Garuda, however, defeated the entire host and scattered them in all directions. Taking the water of many rivers into his mouth, he extinguished the protective fire the gods had thrown up. Reducing his size, he crept past the rotating blades of their murderous machine. And finally, he mangled the two gigantic serpents they had posted as guards. Taking the elixir into his mouth without swallowing it, he launched again into the air and headed toward the eagerly waiting serpents.
En route, he encountered Vishnu. Rather than fight, the two exchanged promises. Vishnu promised Garuda the gift of immortality even without drinking from the elixir, and Garuda promised to become Vishnu's mount.
Flying onward, he met Indra the god of the sky. Another exchange of promises occurred. Garuda promised that once he had delivered the elixir, thus fulfilling the request of the serpents, he would make it possible for Indra to regain possession of the elixir and to take it back to the gods. Indra in turn promised Garuda the serpents as food.
At long last, Garuda alighted in front of the waiting serpents. Placing the elixir on the grass, and thereby liberating his mother Vinata from her servitude, he urged the serpents to perform their religious ablutions before consuming it. As they hurried off to do so, Indra swooped in to make off with the elixir.
From that day onward, Garuda was the ally of the gods and the trusty mount of Vishnu, as well as the implacable enemy of snakes, upon whom he preyed at every opportunity.
This area is the first real rock and steep sloping then transformed into the beautiful and amazing with charming architecture. Implementation of the process by means Bukit cut into giant pillars like building in Egypt but still with the feel of Bali. From the Garuda Wisnu Kencana (GWK) Bali, we can see how beautiful Kuta Beach, Jimbaran, Bali's Ngurah Rai Airport and the Port of Benoa.
The area of Garuda Wisnu Kencana (GWK) Bali Cultural Park planned to be established a landmark or Bali mascot, in the form of a giant statue, that is a statue of Lord Vishnu riding a Garuda bird. This statue was projected to tie layout with visibility up to 20 km so that it can be seen from Kuta and Nusa Dua.
Garuda Wisnu Kencana Statue is a symbol of the mission of saving the environment and the world. The statue was made from a mixture of copper and steel weighing 4,000 tons with a height of 75 meters and a width of 60 meters, which was created by sculptor Bali, I Nyoman Nuarta, if manufacturing is complete, can match the Statue of Liberty in United States.
Garuda Wisnu Kencana (GWK) Bali Facilities :
Lotus Pond surrounded by stone pillars and rock background Garuda bird statue's head with a capacity of 7500 people made ​​the area is ideal for a variety of grand performances, both national / international.

Plaza Wisnu art shop selling various Balinese handicrafts.

Exhibition Hall space to hold exhibitions.

Amphitheatre with a capacity of 800 seats and first-class acoustic arrangement is performance art.

Street Theatre is an outdoor stage for music concerts, fashion shows and other performances.

"Jendela Bali" Restaurant with panoramic of Jimbaran Beach.
When entering Garuda Wisnu Kencana (GWK) Bali area you will be encountered several pieces of natural rock pillars wich high 25 feet are standing firm. Not far from Lord Vishnu statue, there is a sacred spring called Parahyangan Somaka Giri, why say sacred, because the water is coming out of the barren limestone hills. The water is believed to cure various diseases, also used as requirements to summon rain.
Pandawa Beach

Pandawa Beach is located in Kutuh Village, South Kuta District, Badung Regency; around 3 km from the famous Nusa Dua area and Uluwatu Temple. In the past, this beach was hidden behind hill so it was called Secret Beach. Secret Beach actually had known well by some tourists. However, the difficult access to this location made this beach was empty. The visitors of this beach were only a few foreign surfers or domestic tourists. Fortunately, the local government of Badung Regency realized the potential of this beach and quickly managed this beach then launched it as a new mainstay attraction. The result can now be felt such as a better access heading to the beach which is now become more convenient for any vehicles. Pandawa Beach has a stunning panorama with serene and quiet atmosphere. When entering the beach area, we will be amazed by beautiful panorama of high cliff, flanking the road along 1.5 km. The road is purposively built through limestone hills in Kutuh Village, similar with the hills in GWK.
Pandawa Beach is The Bali Secret Beach
Formerly, Pandawa Beach is a hidden and secret beach that was very difficult to access due to located in the deep valley and surrounded by the white stone cliff. We must go through a small step down on the cliff with dangerous valley underneath and the only local people can access the beach since they were own daily job as fishermen and seaweed farmer. But today, the old story was changed. Since local people have the great inspiration to build their village, they work together to break the cliff and make the good road and can be accessed by any vehicles. Since the access is created, many visitors from foreign country either domestic visit this beach every day.
Statue Panca Pandawa at Pandawa Beach

When we pass through the new access to Pandawa Beach, we will be provided a complimentary amazing view of white sandy beach with Indian Ocean just in front of it. On the way down to the beach, we will discover several caves with beautiful ornament of white stone statue taking the inspiration of Panca Pandawa (5 big brothers from Mahabaratha epoch). The statues are beautiful craved with Balinese ornaments and to be one of spot for photo taking when visiting this sight. The Pandawa Beach's name is taken from the name of 5 big brothers at Mahabaratha epoch consisted of Yudistira, Bima, Arjuna, Sahadewa and Nakula. This story had inspired the Balinese Hindu social life those are reflecting their cultures. There are many places, buildings, people's name, street's name and plenty firm of items in particular statues, puppets and much more taking from this story and Pandawa Beach is one of them.
Story Name Of Pandawa Beach Was Taken
The Pandawa Beach name is taken from the name of 5 big brothers at Mahabaratha epochconsisted of Yudistira, Bima, Arjuna, Sahadewa and Nakula. This story had inspired the Balinese Hindu social life those are reflecting their cultures. There are many places, buildings, people's name, street's name and plenty firm of items in particular statues, puppets and much more taking from this story and Pandawa Beach is one of them.
When entering the area of Pandawa Beach, you will be made astonished by beautiful view in front of you. The sand in this beach is so white and clean which is combined with a background of turquoise sea. The ambience is still quiet, serene, and clean. There are no garbages, and if there is any, those are only the remains of seaweed brought by the wave. This beach is very suitable for swimming because the wave and current is not so strong. Various activities can be done in this beach for example playing sand or sunbathing. Because of its geographical location in the east of Bali Island, we can see the amazing sunrise panorama in this beach.
Besides that, there is also an interesting recreation activity around this area which is called paragliding. If the weather is fine and the wind is quite strong, you can see or try this activity directly. The location for starting this activity is actually not in Pandawa Beach, but in Timbis Hill which is not too far from this beach. Usually, this paragliding activity is done in day or afternoon time, if the weather meets the requirements. While you are paragliding, you will be able to see the true beauty of Pandawa Beach from the height. Don't worry if you are a newbie or even a first-timer, because a training centre and instructors are available if needed. If you are interested in trying paragliding, you can go to Timbis Hill which is only a few kilometers away from Pandawa Beach.
Uluwatu Temple

Bali Uluwatu Temple is located in Pecatu Village, Kuta Sub-district, Badung District, Bali. The temple is 30 kilometers to the south of Denpasar. Uluwatu Temple, also called Luwur Temple, is one of the six Sad Kahyangan Temples, the main spiritual pillars in Bali Island.
History of Uluwatu Temple
There are two different opinions concerning the history of Uluwatu Temple.
First Opinions, Some people believe that the temple was built by Empu Kuturan in 9th AD, during Marakata's reign.

Second Opinions, Other people claim that the temple was built by Dang Hyang Nirartha, a pedanda (Hindu monk) from Daha Kingdom (Kediri) in East Java. Dang Hyang Nirartha came to Bali in 1546 AD, during the reign of Dalem Waturenggong. The monk built Uluwatu Temple on Pecatu Hill. After completing a spiritual journey around Bali, the monk went back to Uluwatu Temple and died there. He moksa (died and his body vanished), leaving the Marcapada (worldly life) and entering Swargaloka (heaven).
The Piodalan or ceremony commemorating the temple's anniversary is held on Anggara Kasih day, in wuku Medangsia in Caka calendar. Usually the ceremony lasts for three days thronged by of thousands of Hindus.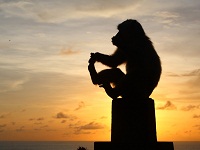 Uluwatu Temple sits on a 70-meter-high cliff protruding above Indonesian Ocean. Because of its unique location, visitors to the temple have to take a long stone stairway to reach it. The temple heads east, unlike other Balinese temples which face west or south. There are hundreds of monkeys roaming along the path outside the temple. Although the monkeys look tame, visitors find them a nuisance as they often grab food off a visitor's hand and snatch visitors' belongings. There are two doors at the end of the path, the north door and the south one, through which visitors enter the temple complex.
The entrance doors take the shape of stone Bentar gates. Standing across from each gate, there are two statues of elephant-headed men. The front part of the gate is decorated with fine relief sculpture picturing leaves and flowery patterns. Behind the gate, there are stone steps that lead to the inner court. Along the steps, trees are grown to provide shade.
A small forest lies at the front and hundreds of monkeys dwell here. They are believed to guard the temple from bad influences. The serpentine pathway to the temple is fortified by concrete walls on the cliff side. It takes about an hour to get from one end to another as there are several fenced points along the way to stop. The views from the bottom of the water surging up against rocks and the ocean horizon are remarkable.
The Balinese Hindus believe that the three divine powers of Brahma, Vishnu, and Siva become one here. That belief results in making Uluwatu Temple a place of worship of Siva Rudra, the Balinese Hindu deity of all elements and aspects of life in the universe. Uluwatu Temple is also dedicated to protect Bali from evil sea spirits.
The inner court is an open space paved with stone floor. There is a wooden building near the north gate. To the west, across from the entrance path, there is a Paduraksa Gate that opens the path into the next inner court. Unlike the ones found outside, this stone gate is completed with roof. The door is an arch framed with an arrangement of stones.There is a sculpture of a giant head above the frame. The top of the gate looks like a crown and it is decorated with relief sculpture. The gaps between the gate and the walls are filled with a surface full of relief sculpture. There is a small rectangular court to the south that stretches out above the sea. There is a wooden construction at the end of the court that seems to be a place where people can sit and watch the ocean. Uluwatu Temple has undergone several restorations. In 1999, a lightning struck the temple and caused fire.
Every six months according to the Balinese 210-day Pawukon cycle, big temple anniversary celebrations are held at the temple. The temple's keeper, the royal family of Jro Kuta from Denpasar, are patrons for the event. Believers regard it as a manifestation of the divine power that protects Uluwatu Temple. Public facilities are available, but not in the temple area. Unlike some other tourist destinations in Bali, Pura Uluwatu area has limited amounts of hassling vendors.
Visitors must wear a sarong and a sash, as well as appropriate clothes common for temple visits. They can be hired here. The best time to visit is just before sunset. Kecak and Fire Dance Performance is performed everyday at the adjacent cliff-top stage at 18:00 to 19:00. Visitors are charged a nominal fee, the ticket around USD 10/person. What makes it the most favourite venue to watch a Kecak dance is the sunset background of the performance.
There's no public transportation to get here and going back in to town will be difficult without any prearranged ride or taxi. A guide is not necessary, though helpful. The service offered is hassle-free at very minimum prices.
Bali Elephant Ride and Uluwatu Tour Packages Itinerary :
08.00 – Pick up at the hotel
Enjoy Bali Elephant Ride Tour
Lunch
Visit Garuda Wisnu Kencana (GWK)
Visit Pandawa Beach
Visit Uluwatu Temple
Back to hotel
Arrive at hotel
Bali Elephant Ride and Uluwatu Tour Price :
Adult : USD 80/pax
Children (4 - 12 years ) : USD 65/Child
Family (2 Adult + 2 Children) : USD 225
Note : Rates are quoted per person for minimum of 2 person
Get special price for group booking
Bali Elephant Ride and Uluwatu Tour Price Include :
Private and Modern with Good A/C Car
Professional English Speaking Driver
Petrol
30 minutes Elephant Ride
Entrance Ticket
Indonesian Lunch
Area Covered for Pick Up :
Seminyak, Legian, Kuta, Nusa Dua, Jimbaran, Sanur, Ubud, Denpasar, Benoa Harbour, Airport
Please contact us for pick up in different area.